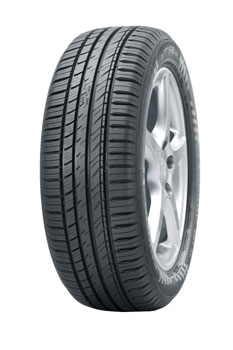 This Premium All-Season tire has all the newest safety and green technologies combined in one tire making it the "entire" package for All-Season customers.
Features/Benefits:
Low Rolling Resistance, Excellent Wet Grip with Long Lasting Tread and Winter performance equal to or better than most similar competitor tires
Greatly improved dry road handling and at the same time improved aquaplaning properties without compromising winter grip
All-Season M+S Rating
Completely HA-Free tire - Only purified low-aromatic oils have been used in the production of this tire. Nokian Tires has succeeded in becoming the world's first tire manufacturer to produce a clean tire with excellent wet grip and other safety properties.
Driving safety and aquaplaning indicator - The driving safety indicator on the center rib of the tire indicates groove depth in millimeters. The numbers fade one at the time as the tire wears down. The aquaplaning indicator on the center rib draws the driver's attention to increased risk for aquaplaning. The indicator droplet disappears when groove depth wears down to less than 4 mm.
Made of Environmentally friendly materials- a true "Green" tire - A completely new tread rubber compound where toxic and highly aromatic oils have been replaced.
Silent Groove Design - Tire noise has been reduced with several different solutions. Drive-by and cabin noise have a pleasant tone.
Inside-Outside Design - A different pattern is used for the inside and outside shoulder design which improves tire handling on wet and dry road surfaces.
3D self-locking siping - The self-locking siping located in the central rib progressively supports the tire in the lateral and longitudinal direction, and particularly improves driving stability and wet grip.
The Rim Guard - The sturdy rib on the rim area protects the rim against knocks and scratches. Not available in all sizes.
Pricing Information:
Please fill out our form to get pricing details on this product: